Updated: Aug 29, 2021
For those of you who are new to my blogs or Instagram account, let me give you a little background on this! Since 2016, I've been known for my signature short hair. My curiosity always led me to try new hair colors. Plus the fact that I washed it daily and might have had over-washed it, my hair was extremely weak even that it might look shiny due to the several chemicals applied after each time it was dyed. I had made the "craziest" decision of growing my hair long in 2020 when the pandemic began and Vietnam initiated its first phase of social distancing. Many of my friends mocked that decision because I had previously taken similar ones that had always failed. Too much background (I know right?!), so let's go down to the basics of how to grow your hair!
1. A minimum amount of chemical
Back to natural color
In order to stop myself from repeatedly going to the salon for hair dye every 3 - 6 months, I died my hair back to its original color, which is black or raven. The first reason is that it is difficult to achieve the perfect shade of other colors after dying black. Secondly, because it matches my natural shade, there will be no color gap when my hair grows longer, which was the major reason I wanted to re-dye it. Covering your hair in dark color will also make it look and feel thicker.
What really matters is how your scalp feels!
If your scalp is not healthy, there will be not enough nutrition to fuel your hair, especially its end. As you might know, the majority of conditioners contain silicone or paraben, which give your hair a "fake" lustrous appearance but can also cause buildup in the hair follicle if the hair is not properly cleansed (with shampoo). So I decided to quit using conditioner after learning that my hair is naturally oily. If your hair is more on the dry side, conditioner is still recommended but don't put it on the root at all costs!
2. Combine Warm and Cold water in one wash!
It is recommended to finish your hair wash journey with cold water. It is recommended that you wash your hair with cold water in the end. Use cold water instead of hot water to rinse the conditioner out of your hair. This is due to the fact that cold water shuts the cuticles and pores in the scalp, giving it gloss and sheen. It definitely helps to keep the hair wet as well as clump the hair together. To open my scalp pores and ensure that all dirt and sebum are eliminated, I normally start my hair wash with warm water. After that, I started using room-temperature water for the second rinse (normally 32 Celcius degrees). The final rinse would be with cold water (around 20 Celcius degrees). My scalp will have some time to adapt as the water temperature is gradually reduced.
3. Don't overwash your hair
How many times a week should you wash your hair?
According to the study, dry hair types should shampoo no more than twice a week, whereas oily hair types may require daily washing. In my opinion, however, it is preferable to avoid washing your hair every day as much as possible. It's time-consuming, especially for long-haired people, and it's not cost-effective, especially considering how much water and chemical waste was being dumped into the environment (but that's another topic I'll cover in future blogs!). Moreover, by stop using conditioner, my hair can stay non-greasy till the end of the day without needing to be washed. Nevertheless, if you spend most of your time outside or exercise on a daily basis, just go and get a hair wash!
Are you over-washing your hair?
Shampoo is used to clean the hair and eliminate excess oil from the scalp. Shampoo, on the other hand, can damage your hair if used excessively or if you use it all the way down the length of your hair. Shampoo depletes the vital oils produced by the scalp, making the hair and scalp overly dry. Only shampoo the roots of your hair to avoid this. But before applying shampoo to the scalp, mix it with water in your palm first! When you rinse the shampoo out of your roots, the ends will be clean.
Don't scratch your scalp with nails, use fingertips instead!
I learned this tip from one Korean hair salon. Constant scratching can form wounds and scabs on your scalp, causing more damage. The outer layer of skin becomes fragile and lacking moisture, causing the scalp to become dry.
4. Make friends with coconut oil
Coconut oil is well-known for its numerous hair-care benefits. I like to use it like this as a "pre-poo" product! I applied a small layer of coconut oil (2-4 drops) on my scalp and massaged it in gently with my fingertips. Then I used a wet brush to comb through the length of my hair, formed a bun, left it in for 15-30 minutes, then shampooed it twice to eliminate all the oil. To prevent hair loss, comb your dry hair rather than your damp hair. Please keep in mind that if you have thin hair, coconut oil may be excessive. In that situation, I recommend looking into different pre-poo products!
5. Let it dry naturally!
I prefer to put my hair in a tower for 5 minutes after it has been washed. Then I'll sit in front of a fan for a while, allowing my hair to dry naturally. But don't ever mistake between letting your hair dry naturally and damaging your hair with all kinds of ashes and dirt when it is still damp. Don't go out while your hair is still 100% damp! In such a time crunch, I normally blow-dry my hair for the first 5 minutes, then dry it with the fan for the next 5 minutes and use the blow dryer again till it was 90% dry.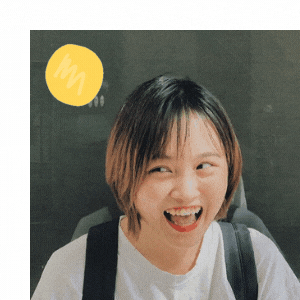 Yayyy! Finally, the blog has come to an end! Those were all the tips I learned and applied from time to time. I hope those tips are helpful to you as well! Please let me know your thoughts and share your recommended tips in the comment below.
My Instagram reel that I mentioned.
You can take a look at a pre-poo oil product from Cobote here, it gives you a non-sticky feeling which I think would be better for people who are new to this hair care step.